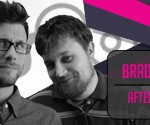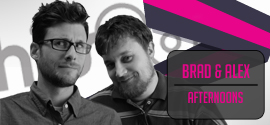 For Brad:
Brad loathes bios. Brad hates when people talk about themselves in 3rd person. Brad is tweakin. Brad was told to write a legit Bio. Brad politely  declined. Brad is going to be yelled at for that decision. Brad likes to drink beer. Brad is a nuerotic, self-obsessed non-blogger. Brad is currently  wearing a cape. Brad would like to get kicked out of a casino for winning too much money. Brad is the Worlds Leading Expert in the life of Peter Tomarkin. Brad participates in synchronized group dance during any Kenny Loggins song. Brad likes the word shsfdnvioasodfsdjfffffffff. Brad doesn't understand why all of his pants pockets come from the store sewn together. Brad has hair plugs. Brads wife is never wrong. Brads real name is Rosenblatt. Brad doesn't like when you do that. Stop doing that. Seriously. Stop. Brad likes to do all of his shopping on horseback. Brad stole that joke from Pat Dixon. Brad hates the guy that wears 2 polo shirts at the same time and pops both collars. Brads pet peeve is when TV and radio people ask about your pet peeves. Brad would like better gifts from listeners this year. Brad wants to cuddle with you. Yes you. Right now. Lets make this happen.

For Intern Alex:
Intern Alex began his career in entertainment at the age of 5, when he perfected his imitation of the infamous former Krystal mascot, "Bob." A lifelong wrestling fan, Alex was nearly ejected from elementary school when he was found to be the ringleader of a gang of fellow Ultimate Warrior fanatics. As a teenager, he found himself again enamored with a low-class dining establishment when he composed his first hit song, "Waffle House, Y'all." However, as the rollercoaster that is entertainment would have it, Alex soon found himself at an all-time low when, while employed as a pizza delivery man, his vehicle was robbed of 7-10 fresh pizzas at a local apartment complex. It was then that he ultimately decided it was time for a career change, and, on the heels of his "D is for Degree" college graduation, decided to try his hand at stand-up comedy. Unfortunately, his hands aren't very funny, so naturally, he was hired by Brad Steiner at Hits 96. To this day, Intern Alex remains Brad's personal sidekick and servant, ensuring his place in history as the second least-talented radio personality in Chattanooga.
More From Brad!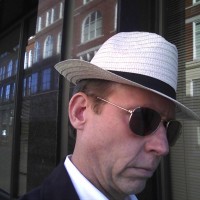 Daily, Chattanooga's most influential thinker is back with another set of deep thoughts…
Continue Reading »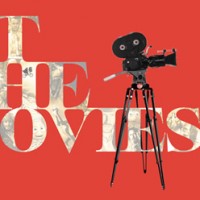 This week BradGirl reviews: The Shining Rushmore Carlitos Way Pulp Fiction and more!
Continue Reading »