50 Cent in bankruptcy court to explain cash piles to judge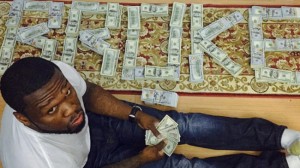 Rapper 50 Cent is expected in a Connecticut courtroom on Wednesday to explain photos of him with piles of cash to the judge in his bankruptcy case.
Judge Ann Nevins ordered the rapper, whose name is Curtis Jackson III, to appear in U.S. Bankruptcy Court in Hartford. Nevins said last month that several photos posted on Instagram raised concerns that Jackson wasn't being truthful about his finances.
The photos include ones showing Jackson sitting next to piles of cash arranged to spell "broke," him in a bed with wads of cash and cash stacks in a refrigerator.
Jackson filed court papers on Tuesday saying the cash wasn't real and he isn't hiding any assets.
The U.S. trustee's office is asking Nevins to appoint an examiner to review Jackson's assets.