Drake's 'Views' Expected to Move Over 1 Million Units, Debut at #1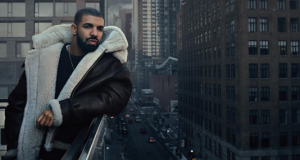 Drake done did it again.
The Toronto rapper dropped his highly-anticipated Views album this past Friday, and though expectations were already high sales-wise for Drizzy, who hasn't had a studio album out since Fall 2013, these numbers suggest he's about to make a bit of history.
Billboard is projecting that Drake's album sales number could balloon to over 800,000 copies, which would smash his previous best–Nothing Was The Same sold 658,000 in its first week–by over 100,000. In addition to the traditional album sales mark, Drake's streaming mark, which will certainly be significant considering the album was released first through Apple's streaming service, then to iTunes several hours later, could push his equivalent album units figure to over 1 million, as reported by ChartNews.
This would mark the first time a rapper would surpass the 1 million units mark in their first week since Drake's mentor and Young Money label boss, Lil Wayne, achieved the feat with his Tha Carter III album in 2008. Of course, that year, Wayne's sales figure was based purely off physical and digital album sales, as streaming didn't become popular until the 2010's and the RIAA didn't begin to recognize streams as album sales until 2015. Drake will also be the first overall artist not named Adele or Taylor Swift to achieve the feat since Lady Gag did it with her 2011 album, Born This Way.