Restaurants Open On Thanksgiving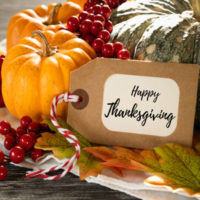 Chattanooga, Tennessee—
No judgement here! If you don't feel like fighting the grocery store lines, WAY OVER pay for a turkey, clean your entire house just for it to get dirty again or you just don't have the energy this year… I got you! I've found several restaurants open on November 25th. Open chains include:
Applebee's – many Applebee's will be open across the country where you can snag a limited-time
offer for two entrées and full-sized appetizers for just $20.
Cracker Barrell – Call ahead and order the Heat n' Serve Holiday Family Meal To-Go for 10 for pick-
up.
Denny's -which has the Sweet Holiday Delights Menu and the Festive Holiday Feasts Menu.
Golden Corral – The famous buffet will be open during Thanksgiving, so you and your family can gobble up all the fresh carved turkey you can eat. Of course, if you'd rather enjoy a delicious meal at home without any fuss, the restaurant will also be offering a complete Thanksgiving meal to-go.
Hardee's – Make it a Hardee's holiday for Thanksgiving this year. The eatery will easily fulfill your fast food needs with classic burgers and fries that are perfect for sharing at Friendsgiving.
Starbucks – which is now offering its holiday cups and festive drink lineup.
Popeye's – Select Popeye's locations will be open for the holiday and will offer pick-up and contactless delivery options for their delicious Cajun Style Turkeys … Is your mouth watering yet?
Ruth's Chris Steak House – Not only is Ruth's Chris Steak House open this Thanksgiving, the resturant will be serving a turkey dinner in-restaurant and will also offer a to-go family turkey dinner for pick-up.
Sonic – There's nothing more convenient (or tasty) than a burger at the Sonic drive-in and luckily, some Sonic locations will be open on Thanksgiving. Since most of the franchise's locations are independently owned, keep in mind that holiday hours may vary and check ahead for your local eatery.
Waffle House – Every single Waffle House in the US is open 24/7 if you feel like dining on its regular
menu pork chops instead of turkey.