Tennessee Crisis Services Statewide map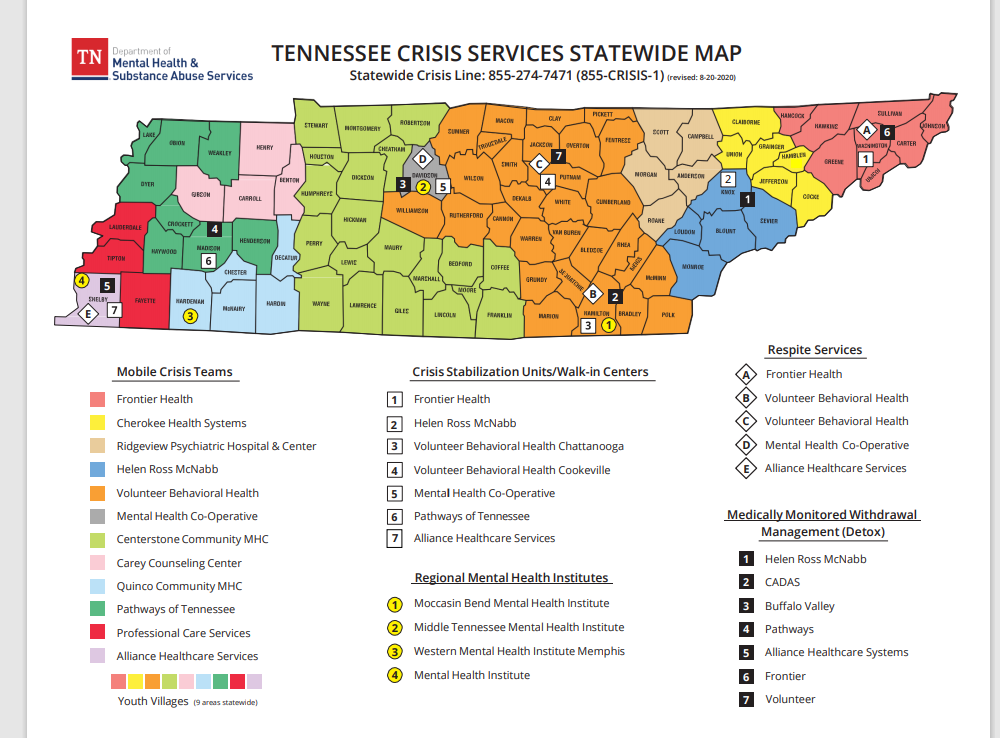 One of my amazing friends, Exy, is a social worker for Hamilton County. She works very closely with Volunteer Behavioral Health Care Systems-Chattanooga, Hamilton County Jail and Silverdale Correctional. Many times when someone is going through a crisis they call 911 or others around them call 911 and more times then not the police officers have to take them into custody. A lot of time during a mental health crisis, the first thought is to call 911, but here are some better resources to use:
Call 855-CRISIS-1 (855-274-7471) or Text "TN" to 741-741
If you are experiencing a mental health emergency, call now. Help is available 24 hours a day, 7 days a week
Mobile Crises Services and walk in services is provided by Volunteer Behavioral Health Care Systems and covers the following areas:
Volunteer Behavioral Health Care System
413 Spring Street
Chattanooga, TN 37405
800-704-2651
Counties: Bledsoe, Bradley, Cannon, Clay, Cumberland, DeKalb, Fentress, Grundy, Hamilton, Jackson, Macon, Marion, McMinn, Meigs,Overton, Pickett, Putnam, Polk, Rhea,Rutherford, Sequatchie, Smith, Sumner, Trousdale, Van Buren, Warren, White, Williamson, Wilson
Mobile Crisis Services is a 24/7/365 response team for those who are experiencing a mental health emergency. Services include Mobile Crisis Services for children and youth. You may access both adult and children and youth services by calling the Statewide Crisis Line or your local Mobile Crisis phone number. See the list of agencies below and the counties they serve.
Services may include: Telephone services provided by trained crisis specialists, Face-to-face or Telehealth assessment, Referral for additional services & treatment, Stabilization of symptoms, Follow-up services