The 2022 "MTV Video Music Awards" Winners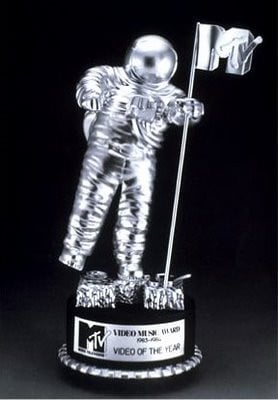 Chattanooga, Tennessee—
Here are the "VMA" winners:
Video of the Year:  Taylor Swift, "All Too Well (10 Minute Version) (Taylor's Version)"
Song of the Year:  Billie Eilish, "Happier Than Ever"
Album of the Year:  Harry Styles, "Harry's House"
Artist of the Year:  Bad Bunny
Group of the Year:  BTS
Best New Artist:  Dove Cameron
Song of the Summer:  Jack Harlow, "First Class"
Best Pop Video:  Harry Styles, "As It Was"
Best Hip-Hop Video:  Nicki Minaj featuring Lil Baby, "Do We Have a Problem?"
Best R&B Video:  The Weeknd, "Out of Time"
Best Rock Video:  Red Hot Chili Peppers, "Black Summer"
Best Alternative Video:  Maneskin, "I Wanna Be Your Slave"
Best K-Pop Video:  Lisa, "Lalisa"
Best Collaboration:  Lil Nas X and Jack Harlow, "Industry Baby"
Best Video for Good:  Lizzo, "About Damn Time"
Best Metaverse Performance:  Blackpink the Virtual (PUBG Mobile)
You can find the full list of winners, including the "professional categories" like Best Choreography and Best Editing, at the "VMA" website.
Johnny Depp did appear at the "MTV Video Music Awards" last night . . . but it may have done more to harm his career than help.  Johnny showed up twice . . . with his face superimposed inside the helmet of a CGI Moonman floating over the crowd.
The first time he said, quote, "I needed the work."
The second time, he said, quote, "I just want you guys to know that I'm available for birthdays, bar mitzvahs, bat mitzvahs, weddings, wakes . . . any old thing you need."
And that was it.  Seriously.  The floating Moonman did appear over the crowd several more times throughout the show, and you kept kinda thinking Johnny would reappear, and maybe do something to redeem the bit.  But it never happened.
A much cooler surprise appearance was Cheech & Chong showing up to present the Red Hot Chili Peppers with the Global Icon Award.
Here are some other highlights from the show:
1.  If you didn't know what a BLACKPINK was before yesterday, you probably do now.  They're a K-Pop girl group, and they slayed with their performance of "Pink Venom".
2.  Snoop Dogg smoked a joint so massive, it launched him and Eminem into a virtual dimension for their performance of "From the D 2 the LBC".  (WARNING:  The video contains profanity.)
3.  Lizzo won the Video for Good award, and had a message for her haters.  She said, quote, "[B-word], I'm winning!"  (WARNING:  The video contains questionable language.)
Lizzo got the crowd pumped earlier in the show with her performance of "2 Be Loved".  (Watch the video to the end to see her absolute JOY when she finishes.  If it doesn't make YOU smile, you're dead inside.)
4.  Nicki Minaj's acceptance speech for the Video Vanguard award got a little philosophical.  She said, quote, "I wish Whitney Houston and Michael Jackson were here.
"I wish that people understood what they meant and what they were going through.  I wish people took mental health seriously, even for the people who you think have the perfect lives."
Then she shouted out Pop Smoke, Juice WRLD, and Nipsey Hussle, and some other people who've passed.
5.  Taylor Swift won Video of the Year for "All Too Well: The Short Film".  That made her the first artist to win the award three times, and also the first winner to direct their own video.
In her speech, she announced that she has a brand new album coming on October 21st.  She promised to drop more details at midnight . . . which she did.
In an Instagram post, she announced that the album is called "Midnights", and called it, quote, "a collection of music written in the middle of the night, a journey through terrors and sweet dreams."