Trending Today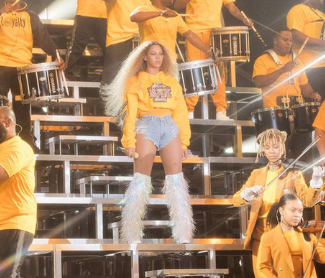 Beyoncé may have a Documentary dropping on Netflix this month!
by: Natalie Gard
The Bey-hive is buzzing after Netflix made a mysterious tweet Sunday. They posted a photo of the word "Homecoming" with some of the letters in the word replaced with Greek letters. The photo was a yellow background with black font, which some fans are speculating that the color combo, the name and the date of the release might be point towards a Beyoncé documentary!
Beyoncé made history taking the Coachella stage back in April of 2017, as the first ever black woman to headline. Bey also has a program called, "Homecoming," which created scholarships at four Historically Black Colleges and Universities (HBCUs), including Xavier University, Bethune-Cookman University, Wilberforce University and Tuskegee University. Along with the signature colors of a beehive, black and yellow, fans are going nuts over the tweet. Speculation is it will be never before seen content of B at Coachella and of her return to the stage after giving birth to her twins, Sir and Rumi. We'll see.
See "Homecoming" April 17th on Netflix.