Trending Today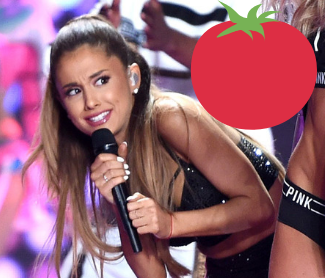 Ariana Grande cancels shows due to a new tomato allergy?
by: Natalie Gard
Ariana Grande says that music is her therapy and wouldn't cancel anything unless it was absolutely necessary. Apparently after the holiday weekend she woke up sick and her throat started to close up. She went to the doctor where they explained she needed to cancel her coming up shows. Ari thinks it was the tomatoes she ate and explained it all on her social media..
"We discovered…..that…..I had an unfortunate allergic reaction to tomatoes and my throat pretty much closed, Still feels like I'm swallowing a cactus but slowly making progress! Thank u all for your love and understanding. can't wait to get back to performing and to make it up to Tampa and Orlando in November. P.S. There is NOTHING MORE UNFAIR THAN AN ITALIAN WOMAN DEVELOPING AN ALLERGY TO TOMATOES IN HER MID TWENTIES……."
For fans who were attending her Orlando or Tampa shows, they have already rescheduled the concert dates. The new show dates will be 11/24 in Tampa and 11/25 in Orlando.