Trending Today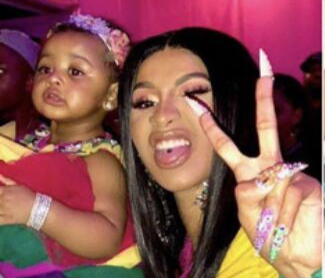 Cardi B drops 400k for Kulture's 1st Birthday!
by: Natalie Gard
50% Kiari 50% Cardi 100% Kulture, Happy Birthday to the first baby of rap! Born on July 10th, 2018 Baby Kulture celebrated her first birthday in New York City over the weekend and her parents went all out! So far out that the power blew several times in their Manhattan party space. The theme to the party was "Onederland" and everything from cake to balloons and lights were wild colors and animals. Guests enjoyed multicolored macaroons, cake pops, cupcakes and other sweet treats while Kulture smashed into her own slice of cake. The place was also covered in beautiful flower arrangements, including over $7,000 dollars worth of multi-colored roses. Kulture loves the show World Party, and as a gift, Eliantte & Co. Company CEO and jewelry designer, Eliantte, specially made a 14k piece especially for the one-year-old!
Cardi B and Offset thanked everyone,via Instagram, for coming out to their daughter's first birthday celebration, saying in a horse voice that she partied so hard that she even lost a nail!