Trending Today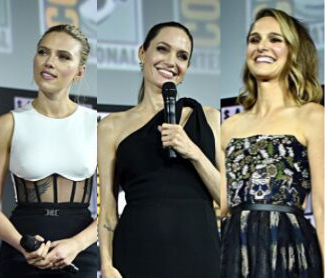 Women in Marvel
by: Natalie Gard
Over the Weekend, Marvel Comics held their annual Comic-Con where fans and stars can come together and share their love for all things Marvel! Marvel made some huge announcements over the weekend, with the help with some surprise guests! Scarlett Johansson has been apart of the Marvel cast for some time now as her role as Black Widow in Marvel's Avengers. Scar looked incredible, while answering questions, in black slacks and a white halter top with lace.
A shock to Comic-Con was seeing Natalie Portman! Marvel announce that Ms. Portman will be playing Thor in the latest upcoming film! Thor: Love and Thunder will also have another female super hero, actress Tessa Thompson who will play Valkyrie.. the first ever LGBTQ superhero!
One more shock before Comic-Con weekend was over with the surprise appearance from Angelina Jolie. Marvel announced an upcoming film staring Jolie. She will star in the studio's upcoming ensemble film The Eternals. Salma Hayek is also starring in the movie.