Trending Today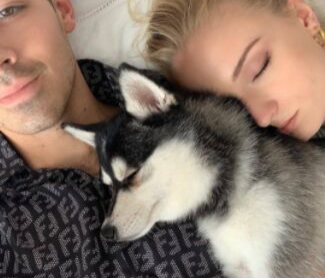 Joe Jonas and Sophie Turner mourn their dog Waldo
by: Natalie Gard
After a two week long honeymoon Joe Jonas and Sophie Turner return home to their New York City home to some horrible news. News that sent them to therapy! If you remember their Alaskan Klee Kai dogs, Porky and Waldo, were dressed in tuxedos for the couples wedding. Joe and Sophie got Porky in April and just before their wedding they adopted Porky's brother, from the same litter, Waldo.
Porky and Waldo have busy parents and while their fur-parents are working they have a dog-sitter. Wednesday morning the dog walker had arrived to take the pups for a morning stroll in NYC. Around 11:30 p.m., a vehicle did not stop and struck a dog on the street, then left the scene. She said the dog was brought to a hospital and died there. Joe and Sophie were so torn up about the whole situation that they have even been to see a therapist to deal with the sudden lose.
Less than a week later they both pay tribute to Waldo with tattoos.
https://www.instagram.com/p/B0hAkxjhKU8/?utm_source=ig_embed