Trending Today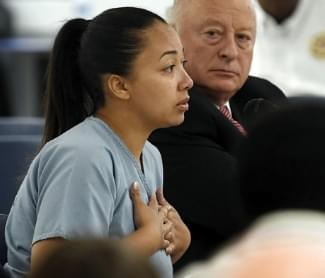 Are you proud to be a Tennessean?
by: Natalie Gard
A lot of times celebrities and social media get a bad rap, but not this time. This time, they are being used as tools to pretty much teach millennial about politics. As a lover of social media, I think this is a great platform to get in my entertainment while learning a little something.
Cyntoia Brown was 16 years old when she was trafficked for sex by a Nashville realtor, Johnny Allen. She ended up fighting for her life and he eventually lost his. She was sentenced to 51 years to life in a Tennessee State Prison. Now I don't know about you, but I made some pretty foolish decisions when I was 16 and to be punished so harshly seems erratic. To make it a little more clear, Cyntoia did shoot Mr. Allen in the back of the head, which isn't consistent with self defense, and after the assault, she took off with some of his items like the gun she used, his vehicle and some money. Cyntoia's legal counsel suggested that years of child sex trafficking and being born with fetal alcohol syndrome could have caused most of her problems. Although she had a troubled start, the judge in her case sentenced her to 51 years to life in the state's penitentiary.
Governors only receives about 2% of clemency cases. Most cases aren't strong enough to hold up through court or simply fall through the cracks. That's where social media and celebrities come in. Kim Kardashian West was a big part of the clemency of 66 year old, Alice Marie Johnson, who was convicted of a non-violent drug charge. Kim, Rihanna, Viola Davis and Amy Schumer were all advocates, for now 30-year-old, Cyntoia. These clemency open up space in prisons and offer a second chance to people who actually deserve it.
Fast forward 14 years to 2019. Tennessee Governor Bill Haslam has pardoned Ms. Brown as of January 7th, 2019 and she is set to be released from prison on August 7th, 2019. In her statement, after the case was taken and tried, she expressed her gratefulness to the governor and the state prison system. Cyntoia will accomplish her bachelor's degree by May of 2019 just before her release thanks to the Lipscomb LIFE Program.
Here is Cyntoia's official statement:
"Thank you, Governor Haslam, for your act of mercy in giving me a second chance. I will do everything I can to justify your faith in me.

I want to thank those at the Tennessee Department of Corrections who saw something in me worth salvaging, especially Ms. Connie Seabrooks for allowing me to participate in the Lipscomb LIFE Program. It changed my life. I am also grateful to those at the Tennessee Department of Corrections who will work with me over the next several months to help me in the transition from prison to the free world.

Thank you to Dr. Richard Goode and Dr. Kate Watkins and all of you at Lipscomb University for opening up a whole new world for me. I have one course left to finish my Bachelor's degree, which I will complete in May 2019.

I am thankful for all the support, prayers, and encouragement I have received. We truly serve a God of second chances and new beginnings. The Lord has held my hand this whole time and I would have never made it without Him. Let today be a testament to His Saving Grace.

Thank you to my family for being a backbone these past 14 years.

I am thankful to my lawyers and their staffs, and all the others who, for the last decade have freely given of their time and expertise to help me get to this day.

I love all of you and will be forever grateful.

With God's help, I am committed to live the rest of my life helping others, especially young people. My hope is to help other young girls avoid ending up where I have been.

          Thank you." -Cyntoia Brown
Now, how proud are you to be from Tennessee?