Trending Today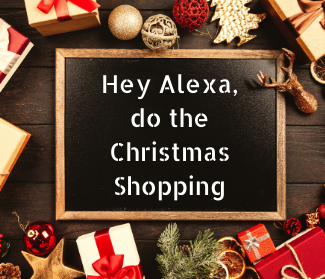 You can still shop online for Christmas
by: Natalie Gard
Christmas is just FIVE days away! Which means you have one more weekend to shop. If you're like me, the thought of going into crowded stores and dealing with heavy holiday traffic is discouraging. And let's be honest, it takes the joy out of the holidays. I've come up with the best solution and maybe a new tradition, ONLINE SHOP. You may be thinking, "there's no way I can get all my gifts delivered in time," but we've got you covered! Online shopping has become exceedingly popular and stores have taken notice. We've complied a list of all the stores who are still offering shipping before Christmas!
1.  Amazon.  If you're a Prime member, tens of millions of items will ship to you before Christmas if you order by Sunday.  And if you REALLY procrastinate, some items will even be available for free one-day delivery if you buy on Monday.
2.  Walmart.  Walmart's deadline for free standard shipping is today.  But they're also offering free two-day delivery for some eligible items when you spend at least $35, on orders placed by Sunday at 2:00 P.M. Eastern.
3.  Target.  Target recommends that you order by 1:00 P.M. Eastern today to get free, guaranteed delivery by Christmas Eve.  And if you order something that doesn't arrive in time, they'll send you a gift card worth a percentage of your purchase.
4.  Best Buy.  The deadline for most items is 11:30 A.M. Eastern TODAY.  So if you're ordering something from Best Buy, you'll want to get on that.
5.  Apple.  In-stock items ordered before 5:00 P.M. tonight should be at your door by Monday.
And if you've yet to send your packages to friends and family, there's still time to do so.
The United States Postal Service:  First Class mail like cards and letters need to go out by the end of today.  The deadline for Priority Mail packages is tomorrow . . . and for Express Mail it's Monday, but that one obviously costs more.
UPS:  Today is the cut-off for two-day shipping.  For last-minute packages, UPS also offers Next Day Air for items sent on Monday.
FedEx:  The FedEx 2Day option deadline is today . . . or you can do overnight shipping on Monday.