Trunk or Treat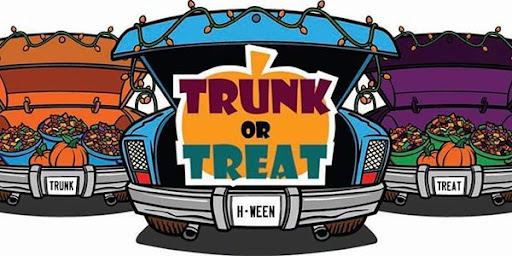 Chattanooga, Tennessee—
Trunk or Treat on Broad Street
Sat. 10/23 9 – 11 PM
3334 Broad St
Chattanooga, TN
Trunk or Treat
SAT OCT 23 2021 04:00 PM- 06:00 PM
609 Post Oak Rd, Ringgold, GA 30736-3530, United States | Ringgold
Pack 3037 and Troop 137 Trunk or Treat
Saturday, October 30, 2021
Wesley Memorial United Methodist Church
6314 E Brainerd Rd
Chattanooga, TN
Super Style Nightmare Trunk or Treat Car Meet
Join Super Style Nightmare for our fall meet! Bring your car, a smile and some candy to share on Friday, October 22 from 6pm-9pm at The Olive Branch at 3992 Ringgold Road in East Ridge.
Drive-Thru Trunk or Treat
Sun, Oct 24, 5:00 – 6:30 PM
Pleasant Grove United Methodist Church
2701 Cleveland Hwy, Dalton, GA
Drive-Thru In Catoosa Springs. 
Trunk or Treat
Sunday, October 24th 3pm- 5pm
Ridgedale Baptist Church on Hickory Valley Road