Fox Network will not put guns in Lethal Weapon ads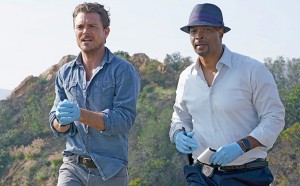 Fox may be bringing Lethal Weapon to the small screen. But don't expect to see lethal weapons on the show's posters.
The network has decided to try to avoid showing characters holding guns in its promotional art for the new series, which has Rectify actor Clayne Crawford and In Living Color' star Damon Wayans stepping into the iconic feature film roles created by Mel Gibson and Danny Glover.
Fox chairman Dana Walden said when asked how the network plans to handle increased sensitivity to gun violence. "What we focus mostly on is that our shows not be gratuitously violent, that violence fits within the world of the storytelling and that overwhelmingly what we're doing feels like entertainment and not gratuitous or something that feels like a documentary. These are entertaining shows. We think about it a lot from the marketing side. Even the artwork you saw of Lethal Weapon, we're trying to focus on the characters, not on guns, or the violence, in the show. You have to hit a balance. They're trying to create stories that are relevant in this day and age and feel heightened and have life and death stakes and take place in a cop world or in the world of terrorism, it's hard to imagine that without any violence, so it's just trying to find the right balance."
A Fox spokesperson later confirmed that the poster for Lethal Weapon will not have guns – unlike the posters for all four of the Lethal Weapon feature films. Guns maybe be shown in other materials for the series, which launches Sept. 21, such as the show's promos and trailers.