'Kimberly Akimbo' And 'Leopoldstadt' Win Big At The 2023 Tony Awards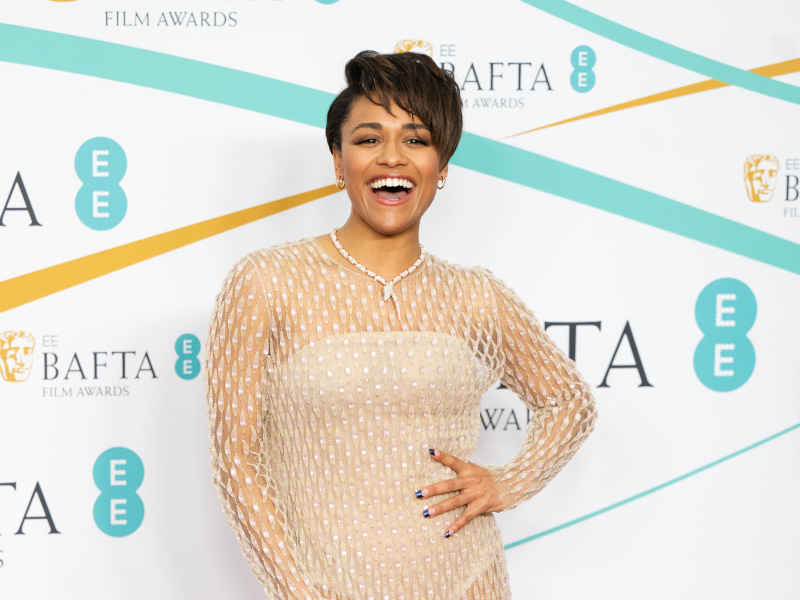 The 76th annual Tony Awards were held on Sunday (June 11th) at the United Palace in New York City. Ariana DeBose hosted the show for the second year in a row, which aired live on CBS. Due to the ongoing Hollywood writer's strike, the 2023 ceremony was unscripted in agreement with the Writers Guild of America. DeBose opened a binder full of blank pages that read "SCRIPT" in reference to this during the wordless opening dance number.
The big winners of the evening were Kimberly Akimbo, which won Best Musical, and Leopoldstadt, which won Best Play. Kimberly Akimbo took home five awards in total, while Leopoldstadt took home four. The musical Some Like It Hot also had four wins in total.
Jodie Comer and Sean Hayes both took home their first Tony Awards for their work in Prima Facie and Good Night, Oscar respectively. Comer won Best Performance by a Leading Actress in a Play, while Hayes won Best Performance by a Leading Actor in a Play.
Many of the evening's winners took time in their acceptance speeches to address societal issues and express solidarity with the writers on strike. Support for the LGBTQ+ community was especially prominent in the wake of anti-LGTBQ+ legislation across the country.
While accepting the award for Best Performance by a Featured Actor in a Play for his role in Leopoldstadt, Brandon Uranowitz thanked his parents and said, "When your child tells you who they are, believe them. An authentic life is a limitless life."
Bonnie Milligan, who took home the award for Best Performance by a Featured Actress in a Musical for her work in Kimberly Akimbo said, "I want to tell everybody that doesn't look like what the world is telling you should look like. Whether you're not pretty enough, you're not fit enough, your identity is not right, who you love isn't right—that doesn't matter because guess what, it's right, and you belong."
Parade director Michael Arden spoke about standing up against intolerance and was bleeped out by CBS when he said, "Growing up, I was called the f-word more times than I can count … But now, I'm a f– with a Tony."
It was an historic evening for nonbinary actors as Shucked actor Alex Newell and Some Like It Hot actor J. Harrison Ghee took home their first Tony Awards. "Thank you for seeing me Broadway," Newell said in their acceptance speech. Ghee dedicated their award to "every trans, nonbinary, gender nonconforming human who ever was told you couldn't be seen." Later, Ariana DeBose referenced her viral BAFTAs rap when she said, "Alex and J. did the thing."
While presenting Jason Zembuch Young with the 2023 Excellence in Theatre Education Award, The Gilded Age actress Denee Benton referred to Florida Governor Ron DeSantis as the "Grand Wizard" of Florida in another memorable moment.
Presenters for the evening include Wayne Brady, Lupita Nyong'o, Colman Domingo, Uzo Aduba, Common, Barry Manilow, Melissa Etheridge, Samuel L. Jackson, and LaTanya Richardson Jackson.
See the full list of winners below:
Best Musical
Kimberly Akimbo
Best Play
Leopoldstadt
Best Performance by a Featured Actor in a Play
Brandon Uranowitz, Leopoldstadt
Best Performance by a Featured Actress in a Musical
Bonnie Milligan, Kimberly Akimbo
Best Direction of a Play
Patrick Marber, Leopoldstadt
Best Direction of a Musical
Michael Arden, Parade
Best Performance by a Featured Actress in a Play
Miriam Silverman, The Sign in Sidney Brustein's Window
Best Revival of a Play
Suzan-Lori Parks' Topdog/Underdog
Best Performance by a Featured Actor in a Musical
Alex Newell, Shucked
Best Book of a Musical
David Lindsay-Abaire, Kimberly Akimbo
Best Revival of a Musical
Parade
Best Performance by a Leading Actor in a Musical
J. Harrison Ghee, Some Like It Hot
Best Performance by a Leading Actress in a Play
Jodie Comer, Prima Facie
Best Performance by a Leading Actress in a Musical
Victoria Clark, Kimberly Akimbo
Best Performance by a Leading Actor in a Play
Sean Hayes, Good Night, Oscar
Best Original Score
Kimberly Akimbo, music by Jeanine Tesori; lyrics by David Lindsay-Abaire
Best Choreography
Casey Nicholaw, Some Like It Hot
Best Orchestrations
Charlie Rosen and Bryan Carter, Some Like It Hot
Best Scenic Design of a Play
Tim Hatley and Andrzej Goulding, Life of Pi
Best Scenic Design of a Musical
Beowulf Boritt, New York, New York
Best Costume Design of a Play
Brigitte Reiffenstuel, Leopoldstadt
Best Costume Design of a Musical
Gregg Barnes, Some Like It Hot
Special Tony Award for Lifetime Achievement
Joel Grey and John Kander
Isabelle Stevenson Award
Jerry Mitchell
Regional Theater Tony Award
Pasadena Playhouse
Tony Honors for Excellence in the Theater
Lisa Dawn Cave, Victoria Bailey and Robert Fried
AUDIO: All quotes will be summarrised due to a technical difficulty. Quote audio will still play in full
The 76th annual Tony Awards Opening Number
"Ariana Debose and a team of dancers and muscians perform a teatrical opening number for the Tony Awards" 1:06 OC…music
Brandon Uranowitz Accepts the Award for Best Performance by a Featured Actor in a Play
"Brandon Uranowitz tells parents that when children tell you who they are believe them, because an authentic life as a limitless life. He was able to live a full, happy life because his parents accepted him and stood by him whilst he grew up." :26 OC…crazy thank you
"Parade" Audio Clip
"Ben Platt and Micaela Diamond perform "This Is Not Over Yet" from Parade at The 76th Annual Tony Awards" 1:09 OC…not over yet
"Some Like It Hot" Audio Clip
"The company of Some Like It Hot performs "Some Like It Hot" at The 76th Annual Tony Awards" :55 OC…got for you
Miriam Silverman Accepts the Award for Best Performance by a Featured Actress in a Play: First Impressions BTS
"Miriam Silverman is congratulated by Erich Bergen and begins thank members of her team along with friends and family who she may have forgotten to mention during her acceptance speech." :57 OC…repeat customers yes