Kourtney Kardashian, Travis Barker, Blair Underwood + More!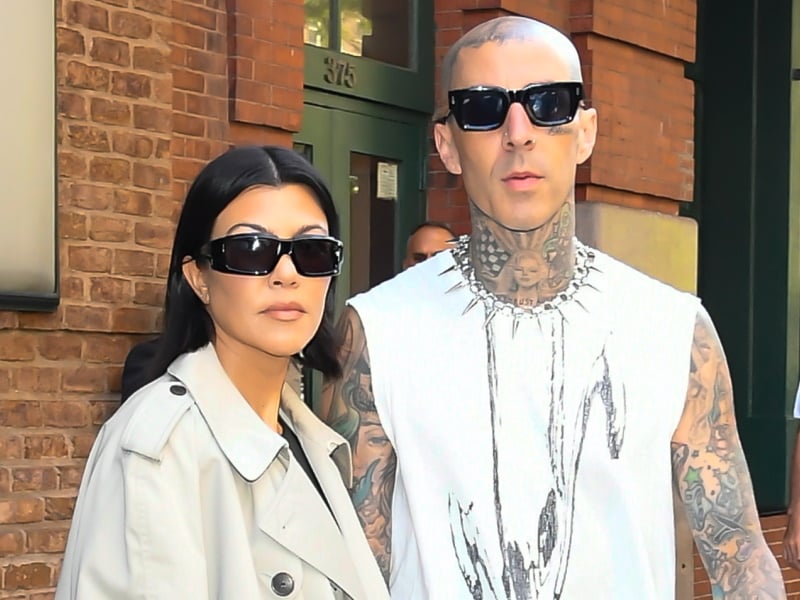 KOURTNEY KARDASHIAN AND TRAVIS BARKER ARE EXPECTING A BABY BOY: Kourtney Kardashian and Travis Barker shared the sex of their baby via Instagram over the weekend. The Kardashians star sat on the Blink 182 drummer's lap in a video posted to the social media platform. Shortly after Barker began a drumroll, blue streamers flew into the air—revealing that the pair are expecting a baby boy.
BLAIR UNDERWOOD AND JOSIE HART ARE MARRIED: According to People, Blair Underwood and Josie Hart were friends for 43 years before they got married in the Dominican Republic on Saturday (June 24th). "It was surreal and magical, " Hart told the outlet. "His vows, to hear him say the words he said to me for our forever was incredible. Between our children and all of them giving toasts, the fireworks right after our first dance, the entire day was just beyond my expectations." The pair met when the Set It Off actor was 16 and were longtime friends before they began dating following their respective divorces. "My mother loved and adored her. We lived separate lives on separate coasts. We never saw each other a lot. But when we talked, there's always such a strong connection of just understanding each other," the Self Made actor said. He added, "To find love and discover love in someone who's been around in my life, in my family's life, and as I have been in hers, for so long in an honorable, platonic way. To find each other in this space when we're both single and looking to see how we'll spend the rest of our lives. It's a beautiful love story."
KEKE PALMER COMMENTS ON COMING OUT PUBLICLY: In a recent interview with Them, Keke Palmer discussed why she doesn't feel the need to release an official statement about her sexuality. "Why the hell do I have to declare to you who's laying in my bed? Doesn't that sound crazy? 'So who are you sleeping with?'" she says in a clip shared to her Instagram page on Saturday (June 24th). "There is no one way or right way to be authentically you. Having a safe space for community is both beautiful and important, just as it is to honor our uniqueness within our communities. Being YOU in all the ways is the greatest freedom and it's your right to be as open or as private as you wanna be!" the Nope actress wrote. Niecy Nash shared the video to her Instagram page as well. "Shout out to everyone who is 'doing them' because I'm definitely 'doing me' Let 'em know Keeks‼️" the Claws actress added in the caption.
TIA MOWRY AND CORY HARDRICT HAVE A 'SIX-MONTH' RULE BEFORE INTRODUCING NEW PARTNERS TO THEIR KIDS: According to court documents obtained by Today, Tia Mowry and her ex-husband, Cory Hardrict, have a strict agreement in place when it comes to introducing new partners to their two children, five-year-old Cairo and 11-year-old Cree. Divorce papers state, "Absent agreement to the contrary, each party is restrained from introducing the minor children to a new romantic partner until that party has been in an exclusive relationship with the romantic partner for at least six months."