Tori Spelling, Dean McDermott, Armie Hammer + More!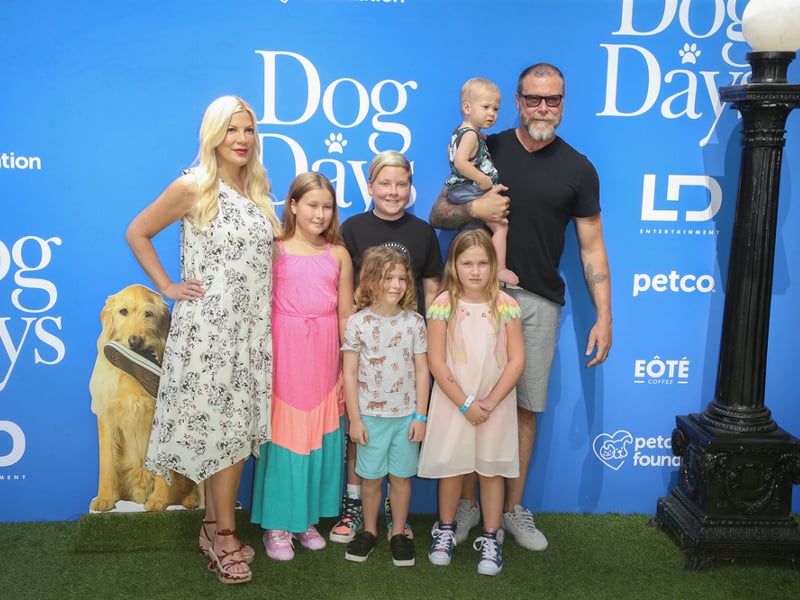 TORI SPELLING WEARS A 'BOYS LIE' T-SHIRT WHILE DEAN MCDERMOTT MOVES BOXES INTO STORAGE UNIT: Page Six reports that Tori Spelling was spotted wearing a t-shirt that read "Boys Lie" on Monday (June 19th), as her husband of 17 years, Dean McDermott, was moving boxes out of their home and into a storage unit. This comes just days after McDermott shared and later deleted an announcement on social media that the pair were divorcing.
ARMIE HAMMER AND ELIZABETH CHAMBERS SETTLE THEIR DIVORCE: People reports that Elizabeth Chambers and disgraced actor Armie Hammer have reached an agreement to settle their divorce—three years after Chambers first filed in 2020. Court documents state that "the parties have entered into a written agreement regarding their property and their marriage or domestic partnership rights, including support, the original of which is being or has been submitted to the court." The pair were married for 10 years. The Call Me By Your Name actor has been accused of rape and physical abuse, among other serious allegations.
WHITNEY CUMMINGS IS PREGNANT WITH HER FIRST CHILD: Whitney Cummings took to Instagram on Tuesday (June 20th) to announce that she's expecting her first child. The Accused actress shared photos of herself in a bikini, playing with her dog in a pool. "In these pix I am with child. And there's a baby in me too," she captioned the post. "Human pup coming December. All your dates in 2023 still happening I just may fall over a couple times."
ROBERT DOWNEY JR. SAYS SPENDING A YEAR IN PRISON WAS LIKE 'BEING SENT TO A DISTANT PLANET:' Robert Downey Jr. told Dax Shepard on Monday's (June 19th) episode of the Armchair Expert podcast that going to prison in 1999 was "the worst thing that happened to me." The Iron Man actor was initially sentenced to three years at the California Substance Abuse Treatment Facility and State Prison after missing court-ordered drug testing related to a 1996 cocaine possession charge. He ended up only spending a year in prison and was released in 2000. Describing his time there, Downey Jr. said, "You could just feel the evil in the air, and that was no trouble at all because it was kind of like just being in a really bad neighborhood. There was no opportunity there. There was only threats." The Sherlock Holmes star added the experience was like "being sent to a distant planet where there is no way home until the planets align."