Kourtney Kardashian's Unborn Child Needed Life-Saving Surgery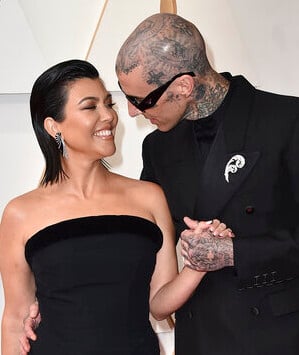 Chattanooga, Tennessee—(Wise Brother)
Kourtney Kardashian opened up yesterday about her recent medical emergency.  It turns out that her unborn child with Travis Barker needed life-saving surgery.
She didn't specify what was wrong, but it sounds like everything's okay, because she said, quote, "Walking out of the hospital with my baby boy in my tummy and safe was the truest blessing."
She added, quote, "As someone who has had three really easy pregnancies in the past, I wasn't prepared for the fear of rushing into urgent fetal surgery.
"I don't think anyone who hasn't been through a similar situation can begin to understand that feeling of fear.  I have a whole new understanding and respect for the mamas who have had to fight for their babies while pregnant."
Travis Tweeted, quote, "God is great.  I flew home for a life-threatening emergency surgery for our baby that I'm so grateful went well.  I want to say thank you for all the support.  Tour resumes Friday."  (People)