Met Gala Highlights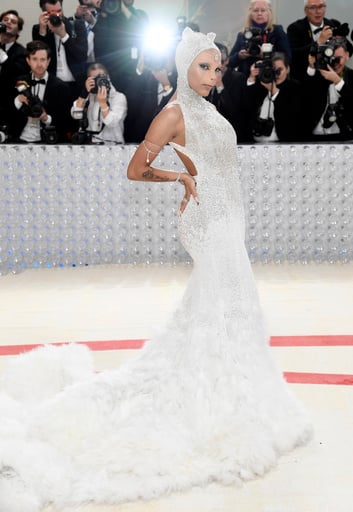 Chattanooga, Tennessee—(Wise Brother)
The Met Gala went down last night at the Metropolitan Museum of Art in Manhattan.  That's the event where everyone tries to get noticed by wearing extravagant . . . and often ridiculous . . . outfits.
Here are some of the most notable ensembles:
1.  Jared Leto went FURRY in a full-on cat costume.
2.  Doja Cat may have done him one better, though, with actual cat prosthetics.
(Cats were a thing this year, because the theme was Karl Lagerfeld, and he had a white cat named Choupette . . . who did NOT attend this year's Gala.)
3.  Hugh Jackman's 67-year-old wife Deborra-Lee Furness absolutely crushed it in a skin-tight dress.
4.  Cara Delevingne was striking in black and white . . . with gray hair.
5.  Oscar winner Ke Huy Quan was a total pimp.
6.  Janelle Monae was . . . I don't know, a black and white traffic cone???
7.  Cardi B actually looked kind of sweet and adorable.
8.  Jennifer Lopez showed a lot of skin . . . because she can.
9.  Erykah Badu may have invented a new look:  Yeti chic.
10.  Kendall Jenner showed off those legs.
11.  Bad Bunny had some interesting sleeves.
12.  Pete Davidson dressed exactly as you would expect him to.  So did Kristen Stewart.
13.  Florence Pugh absolutely pulled off a shaved head.
14.  You really have to go all out to be that one person everyone's talking about the morning after the Met Gala.  I think Lil Nas X is that person this year.  (Here are some pics.)
(Check out a huge gallery here . . . or you can see just about everything at the Met Gala's Twitter.)