Stage Sponsor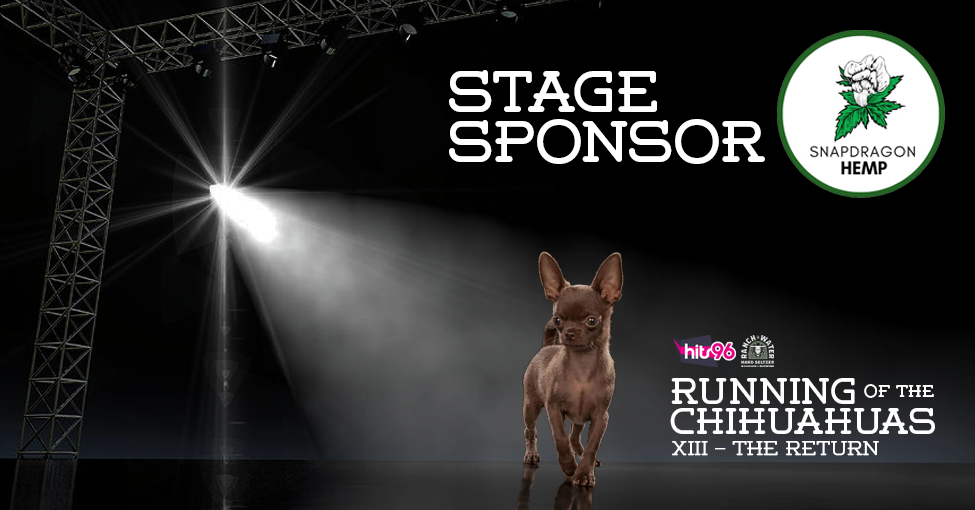 Before the race gets started, Hits 96 is excited to introduce rising Hits artists on the Snapdragon Hemp Stage. The Running of the Chihuahuas stage has seen many talented acts like AJR, Katy Tiz and Boys Like Girls before they hit it big! This year's artists are Jena Rose, Charlotte Sands and Caley Rose. The music kicks off with DJ Alex Angelo at 1:30 p.m. playing special mixes between sets to keep the party moving all day long.
Get to know this year's Running of the Chihuahuas Rising Artists:
Caley Rose:
Billboard Charting Caley Rose is an award winning Pop Singer & Songwriter whose music has been featured on Top 40 radio, in commercials, & film. She empowers women & youth by partnering with organizations that uplift females and by speaking about confidence in schools across the country. This former opera and Off-Broadway singer's songs have been featured in commercials for Lipton, Adobe, the Tomorrowland Music Festival, and on Telemundo (La Voz) and have received awards from the John Lennon Songwriting Contest, Mid-Atlantic Song Contest, the Empower Posi Music Awards, and more. She has played SOLD OUT shows at Hotel Cafe, SoFar Sounds, and legendary venues from NY to Seattle to LA. In 2022, she embarks on a cross country music tour in her self renovated airstream trailer, "The Shiny Twinkie."
Charlotte Sands:

Raised on the pop-punk bands of the early 2000s and rooted in the storytelling of folk singer-songwriters, Charlotte Sands combines upbeat melodies with unabashedly honest, self-reflective lyrics. Sands describes her music as "a safe space for listeners to feel accepted and celebrated for their weirdness and diversity."
Her recent single "Dress" has amassed over 25 million streams since its release, broke the Top 100 on the iTunes Pop Chart, and is currently inside the Top 50 at US Pop Radio! She has had quite a prolific 2021 highlighted by several single releases, landing on the cover of Spotify's 'New Punk Tracks,' press features at Paper Mag, AltPress, & Allure, a feature on the latest Cheat Codes album, and breaking 1 million monthly Spotify listeners. Most recently, Charlotte performed at Sad Summer Fest, where she shared the stage with acts like All Time Low, The Maine, Four Year Strong, & several others.
On Tour Now with Yungblud and The Maine & Opening for My Chemical Romance on May 22nd: www.charlottesands.com/tour
Jena Rose:

Jena Rose, the 21 year-old Cuban/American, is the breakout pop artist to watch in 2022. The singer/songwriter's new single, "Checkmate," has amassed 10M+ streams and 7.9M video views on YouTube and 5.3M views on Facebook in its first two months as she's been in MTV's Top Ten most requested for seven weeks in a row, among the industry's biggest stars. Her previous single, "Forever Yours", featuring Casper Mágico, earned global recognition with 7M streams and her dance track "Reasons," was the most added remix on the Billboard Dance Chart at its debut.
Jena's accomplishments have been lauded by an array of premier outlets, including American Songwriter and People Magazine. Her new EP, "Baby Maybe," launches later this year, featuring songs by Grammy-nominated producers and writers whose credits include Blink 182, Machine Gun Kelly, 5SOS and Panic at the Disco.
Alex Angelo:
Born in Florida, and growing up in Ohio, primarily Cleveland and Cincinnati, Angelo recalls that his earliest musical motives were driven by his love for dance and DJing. At the age of 7, Alex was dancing for the Cleveland Cavaliers. At the age of 10, he was DJing in the arena during games. At the age of 12, he had a weekly radio mix show on Radio Disney. Alex's mom is a public school music teacher, and Alex decided early on that he wanted to be the artist ON the records, not just playing and dancing to the music. Throughout his teens, Alex toured with Austin Mahone, Jake Miller, Shawn Mendes, Fifth Harmony and self-released several songs that have totaled millions of listens on Youtube, Spotify, Apple Music, etc. Now 20, living in Nashville, TN, Alex has grown as a producer/songwriter learning from the likes of Kenneth "Babyface" Edmonds and Antonio Dixon.
He continues to songwright and produce music for himself and other artists. His goal for this new radio show is to meld his skills as a DJ and a Producer to create some buzzworthy, exciting mixes and sounds that are exclusively In The Mix with Alex Angelo – Saturday nights from 8pm to Midnight on Hits 96.