World Naked Gardening Day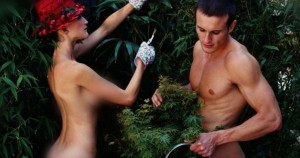 Mark those calendars with the correct date:
"World Naked Gardening Day (WNGD) is an annual international event celebrated on the first Saturday of May by gardeners and non-gardeners alike. WNGD has become a growing annual tradition that celebrates weeding, planting flowers and trimming hedges in the buff. This year's naked day of planting is on May 7th, and it is the 12th annual celebration. As the news of this unique celebration spreads, it has left many people wondering, why garden naked? Well, according to the group who founded WNGD, first of all, it's fun!