Bette Middler Responds to Kim Kardashians Nude Photo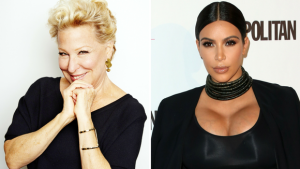 The Internet is now home to another naked photo of Kim Kardashian.
And if you're already tired of hearing about it, Bette Midler's with you.
After Kim K posted a barely-censored nude to her Instagram, Midler responded on her Twitter with some characteristic shade.
She has a point: In a tweet from Bette Middler @Bettemiddler Kim Kardashian tweeted a nude selfie today. If Kim wants us to see a part of her we've never seen,
she's gonna have to swallow the camera
So if Kim K swallows a camera and streams her digestive processes live on her app next week, we'll know exactly who to blame.
Previously, Bette took aim at last month's Academy Awards on Twitter. "The Oscars are today!" she tweeted the day of the awards. "You know, the awards show where Leonardo DiCaprio is 'overdue' but black people can 'wait till next year.'"