Former Women's WWE Champ Chyna passes away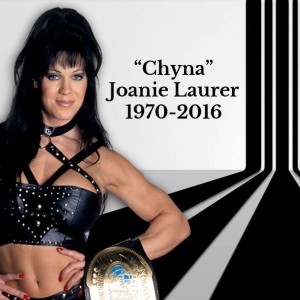 Former professional wrestler Chyna, who appeared in the VH1 reality TV shows "The Surreal Life" and "Celebrity Rehab with Dr. Drew," was found dead Wednesday in a Redondo Beach, California, apartment, police have confirmed. ABC-owned station KABC also confirmed Chyna's death with her manager.
Chyna, born Joan Marie Laurer, was 45.
The Redondo Beach Police Department said in a statement, "there are no indications or signs that the death was a result of foul play," and added, "events leading up to the death of Joan Lauer is under investigation by the Redondo Beach Police Department to assist in the determination if the death was natural or accidental."
The nature and cause of her death are under investigation by the Los Angeles County Coroner's department.
The statement explains, "On April 20, 2016, Redondo Beach Police Officers were dispatched to an apartment unit in the 900 block of Esplanade. The Redondo Beach Police received a 9-1-1 call from a friend of the apartment unit resident that the female inside was not breathing. The friend told Redondo Beach Police that the female had not answered her phone in a few days, and went to the location to check on her welfare."
A statement was also posted on Chyna's verified Twitter account Wednesday evening, confirming the Rochester, New York, native's death.
"It is with deep sadness to inform you today that we lost a true icon, a real life superhero," the statement reads. "Joanie Laurer aka Chyna, the 9th wonder of the world has passed away. She will live forever in the memories of her millions of fans and all of us that loved her."