Hey Celebrity What's In Your Fridge starring Brian Smith
Today on Hey Celebrity What's In Your Fridge we explore the fridge of News Channel 9's meteorologist BRIAN SMITH!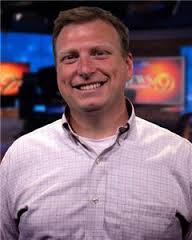 What do you really look for in a good meteorologist? Is it their ability to to spot a sub-synoptic low or a suction vortex? Well, that could be important…but what you really want in your meteorologist is a friendly, reliable voice to deliver the most accurate weather information to you about seven times a day. That's why today's celebrity in Hey Celebrity, What's In Your Fridge is Storm Track 9 Meteorologist Brian Smith.
Brian's supercell of a fridge situation is simply stunning. This low humidity hangout is sure to leave you wanting more.
Across the northern plains we go. When experiencing a cold snap, Brian likes to relax with a cup of coffee as his creamer of choice is prominently featured at the top of his fridge. Taking the extra steps in times of a freeze warning, Smith spices things up with tangy taco sauce.
Moving to the upper midwest, we see that Brian likes to keep his digestion mostly sunny…that's why he eats Activia digestive health yogurt. Butter is so yesteryear…no retrogression here as he fittingly chooses Sunnyland buttery spread.
This wave of high pressure moves southward as we finally see some predictable precipitation. Milk is on the move as most of this jug has been devoured. Shock Top is the meteorologists choice for beer? Why? Truly playing to this weatherboy's heart, its logo is a cool sun with shades.
As we take a moment to look at our southern coast we see that a hurricane has hit the bottom shelf. Yes, all of the food in this fridge has washed on shore. Hummus, sea food, and tortillas all indicated a large scale storm system moved through. Unfortunately the cat-5 took out the ability to identify most of the items on this portion of the fridge.
A quick peek below the border shows that nobody really cares about the weather in Mexico…or that Brian isn't a very good fridge photographer as his chiller bins are totally dark. Who are you hiding in there? El Chapo or El Nino?
We'll hop across the pond to look at the continent of condiments and we see that weather there is to be expected. It is rather odd that Brian keeps his own ketchup and mustard in restaraunt style yellow and red squeeze bottles. There's a 0% chance anybody could confuse the two but whatever. Why only two eggs? Even if only one person wanted eggs, they would definitely need more than two? Perhaps this atmosphere just isn't eggcited?
A long range forecast for Brian's fridge shows patches of activity, with a looming drought coming in for a few days before finally hitting that much deserved grocery store downpour a few days from now. Although this two-door had a lot of goodies in store…a storm is brewing on the horizon. A meteorologist battle is still to come. So have your weather radios tuned to 96.5fm (don't actually) and be weather alert for the next edition of Hey Celebrity, What's In Your Fridge.