Iggy Azalea Reacts to Fiancé Nick Young's Alleged Cheating Confession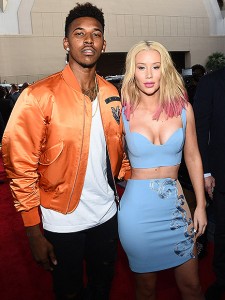 Thanks Bro,' Rapper Tells L.A. Lakers Player Who Filmed Video
Iggy Azalea has responded to her fianceé Nick Young's alleged confession that he's cheated on her.
In a video that has gone viral, Young, 30, allegedly discusses his relations with other women as his Los Angeles Lakers teammate D'Angelo Russell questions and records him. "Hmmm i see D Angelo Russell is trending… I actually liked his film. Thanks bro," Azalea, 25, tweeted Wednesday.
The clip Azalea alludes to allegedly shows Young responding to Russell's questions without realizing he is being recorded.
"You was 30 and she was 19?" Russell reportedly asks Young of a sexual encounter.
Following inaudible comments, Russell allegedly says, "What about Amber Rose?"
"No, she knows my girl," Young reportedly tells him.
Reports of the video leak has also caused tension among Lakers players, who have "isolated" Russell.
"It's bad," a team source said about the leak. "It's about as bad as it can get. There were trust issues already. Now there's no trust."
Azalea brushed off speculation about her relationship with Young in an appearance on an LA Radio station on Thursday.
"That's part of being a basketball player," she said of separate allegations Young sexually harassed a woman earlier this month. "There's always something."
Young proposed to Azalea in June, presenting her with a custom 10.43-carat ring.
In January, the NBA star joked about their wedding preparations, calling it a "nightmare in its own.