"IT TAKES TWO" HIP HOP PIONEER DIES AT 46…REST IN PEACE DJ E-Z ROCK!!!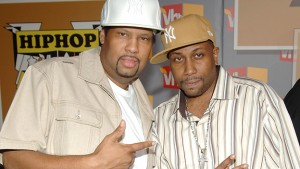 He made his mark on the Hip Hop scene as DJ E-Z Rock, but to those most closest to him, he was Rodney Bryce. The famed DJ died Sunday, April 27,2014
a spokesperson for Rob Base, friend and collaborator, informed them that Bryce's death was due to complications of diabetes.
MC Rob Base and DJ E-Z Rock released their first single, "DJ Interview" in 1986, but did not embark on their journey to fame until 1988 when they dropped their famous "It Takes Two" smash! Teddy Riley produced the song that constructed around the vocals of Lyn Collins' 1972's "Think (About It)".
Peaking at No. 3 on the Billboard Hot Dance/Club Songs, this is one of the pioneer songs that helped rap cross over into the pop charts. The composition of hip hop and house music became a nationwide hit! The duo also released "Joy and Pain", as well as "Get on the Dance Floor" from the "It Takes Two" album — but neither track was a match for the explosive single under the same name.
DJ E-Z Rock, 46, remembered sending the track to the hip hop label, Profile Records, and receiving a call the very next day. "It was kind of weird because we only had one record," Rock recalls of their first hit "Make It Hot" — "Then, when 'It Takes Two' came out, we started headlining."