PEZ Easter Egg Hunt parents push kids, steal candy: 'They broke my bucket'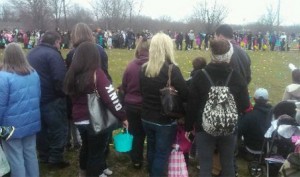 The 2016 PEZ Easter Egg Hunt quickly went from family fun to colossal disaster.
PEZ Candy USA hosted its annual Easter egg hunt at the company visitor's center in Orange, Connecticut, on Saturday. The staff laid out nearly 10,000 eggs over three fields for 1,000 children, planning three different start times for different age groups — with signs designating "kids only" zones.
But some parents ignored the rules and chaos ensued.
"Somebody pushed me over and took my eggs and it's very rude of them and they broke my bucket," 4-year-old Vincent Welch told the local TV station. His mother said the boy was "hysterically crying."
PEZ General Manager Shawn Peterson said that some adults "rushed the field and took everything," rather than wait for their staggered start times. He said the crowd was "kind of like locusts," moving from field to field as they pushed small children, took down signs and overwhelmed PEZ staff.
One woman said a parent gave her grandchild a bloody nose.
"My grandson ended up with a bloody nose from an ADULT in the 9-12 year old section knocking into him!!!! Where was PEZ personnel?? Where was the safety of our children in your thought process?? And to make matters worse, how about almost getting hit by a vehicle leaving your property, which had parked in your lot and was leaving, in very close proximity to the 'egghunt' field?" Jennifer Barden-Moore wrote on PEZ's official Facebook page.
Easter Egg Hunt at PEZ in Orange turns into chaos. Hear from a parent and child caught in the frenzy at 6. pic.twitter.com/a40GOnw2Eg

— Matt Austin (@mattaustinTV) March 26, 2016
Peterson told NBC that the company does not widely advertise the event, which is offered for free, to avoid having too many participants. He said the company had one employee at each egg hunt field, as in the past, but never had an incident before.
PEZ, best known for making candy dispensers with cartoon characters whose mouths open to release small blocks of sweets, apologized in a statement.
"Due to the actions of a few, the good intent quickly turned into a mess. I would like to sincerely apologize to each of our guests… We only wanted to do good for the local community."
Peterson added that the company offered parents free coupons and candy inside the venue. It is unclear whether PEZ will hold another Easter event next year.