Weekend Warrior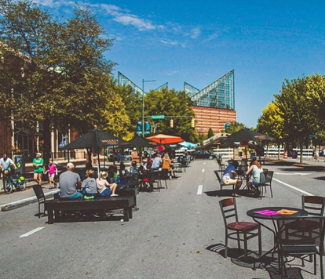 Alright my Weekend Warriors, the weekend is finally here. Is it just me or was this one helluva week?
Happy Friday! There's a ton of cool things for you to take advantage of this weekend! The weather will be perfect with highs in the 70's and lows in the 50's. Get out and enjoy!
Eat in the Street
The 200 block of Broad Street will be CLOSED every Saturday and Sunday in September! Enjoy pizza from Mellow Mushroom or hit up Puckett's restaurant and grocery.
Dunlap Coke Ovens
Take time to explore the ruins of a once thriving industrial complex. Meander through the woods and explore an almost forgotten piece of history. Visit the museum where you will find photos and artifacts from the early 1900's. In the Park, the admission is free and so is the parking. The Museum is also Free, donations are accepted. Plan to visit us. Any time of year is perfect. In the meantime, enjoy our site. Remember, the entire Park is in the Central Time Zone.
Rhea Heritage and Scopes Trial Museum
Visit the newly renovated Rhea Heritage and Scopes Trial Museum, an enjoy the rich history of Rhea County. Find out more about the single 1925 event that placed Dayton on the world-map, the Scopes Trial was one of the first to be referred to as the "Trial of the Century." Delve a little further and you'll find that there's much more to see and do in beautiful Rhea County.
Red Wolves Home
The Chattanooga Red Wolves will play the Greenville Triumph at 1 pm Saturday at the new the CHI Memorial Stadium in East Ridge.
Freedom 5k
Get signed up by Sunday for the Virtual Freedom 5 K to benefit Adult and Teen Challenge of the Mid South. Also, take a look at the online auction that ends next week. The goal is to get Chattanooga exercising and competing and for a great cause. Everyone that registers earns a very cool Freedom 5k T-shirt , Freedom 5K Race Day Racing Bib, and Freedom 5K Finishers Certificate. www.tcmidsouth.org
Visit the Market
The River Market happens Saturday in front of the TN Aquarium from 10am-5pm. Free yoga is available at 10 AM, all you need is a mat and water! On Sunday enjoy the Market downtown or in Collegedale from 10am-2pm. The Oscar Meyer Weiner Mobile will be featured at the Chattanooga Market at the First Horizons Pavilion and The Mr. Peanut's Nut Mobile will be at the Collegedale Market.